By 2060, the world will be the equivalent of New York City, 230 billion square meters2 (2.5 trillion SF), every month in the new building. Buildings and construction together make up 39 percent of the world's carbon dioxide (CO2) Emissions, making it one of the most polluting industries in the world. The construction industry is also one of the world's largest generators of solid waste, filling more than a third of the landfill area worldwide. As the construction sector continues to grow, it is becoming increasingly important for the industry to address green building in order to address the global climate emergency.
Jason F. McLennan was appointed Impact Architect with Canadian green building technology company Nexii Building Solutions Inc. (Nexii) to design and build effective and sustainable buildings. He will continue to advise Nexii and advise on ways to maximize the environmental benefits of the Nexii architecture. McLennan spoke to Construction Canada about ways to push the boundaries between architectural innovation and sustainability.
Why is green building important?
McLennan: As the world population continues to grow and the negative effects on nature increase, it is more important than ever to find truly sustainable materials and construction technologies for the development of our buildings and cities. That's why I've partnered with Nexii and I'm proud to help them advance their technology in North America. With its super-efficient systems approach to construction technology, Nexii offers an important solution for the construction industry.
Nexii's building system uses fewer resources, produces less waste and uses non-toxic materials for healthier living. Nexii's proprietary material used in its building panels is more thermally efficient and less carbon intensive than concrete. When assembled, the precision-made panels form an airtight building envelope, improve the building's energy efficiency and reduce the energy required for ongoing building operations.
How can architecture be combined with green building in order to create socially and ecologically effective buildings?
McLennan: The only type of architecture I work on is deep green, resource-efficient building. It is the job of all architects, engineers, developers and builders to rethink how buildings are designed and what they are made of in order to harm the planet as little as possible. It is imperative to rethink the entire construction process, which can be wasteful and inefficient. Nexii's products and technologies can revolutionize the way we build buildings, reducing construction waste to near zero. The Nexii panels are precision engineered and quickly assembled on site, reducing construction times and costs. The panels fit together like a puzzle and form an airtight system, which means that the building uses less energy for heating and cooling. This use of technology reduces both the waste and environmental pollution immediately and the negative impact on the climate of your buildings in the long term.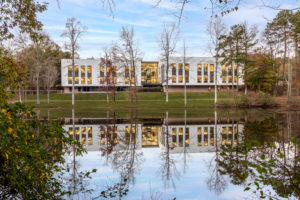 How do you want to push the boundaries of architectural innovation and sustainability?
McLennan: In 2006 I started the Living Building Challenge, which was and is the strictest environmental protocol for building in the world. We are now seeing living buildings all over the world that run entirely on renewable energy and are free of Red List chemicals. These buildings are inspirations for how we can build anything. I live in a living building house and I can tell you that it is also the most comfortable and healthiest building. I encourage everyone to take a look at the Living Building Challenge and go beyond the paradigm of doing less bad for the world. I will work with Nexii to ensure that Nexii projects continue to push the boundaries of architectural innovation and sustainability for all of their commercial, residential, industrial, mixed-use and retrofit projects. It is still becoming increasingly important for the industry to deal with environmentally friendly construction in order to help tackle the global climate emergency.
Nexii's technology means that we can create ultra-high-performance, extremely versatile, lightweight and cost-effective products that can be adapted to virtually any design and use a fraction of the materials, energy and construction time compared to current construction methods. This gives us many opportunities to push the boundaries further.
How can green building help to cope with the climate emergency?
McLennan: The first priority is to decarbonise buildings and eliminate all fossil fuel consumption. No more natural gas, no more coal. We need to build fully electric buildings and get all of our energy from renewable sources. An important part of this is building buildings that are super energy efficient right from the start – that use less energy and resources, have a lower impact on the environment, and are more comfortable with less heating and cooling requirements. This has to be the mantra for all buildings everywhere.
How can sustainable buildings be designed effectively?
McLennan: When we design a really green building, we have two effects on the world. First of all, there is the ecological footprint of the building itself – how much energy, water and resources does it consume? How is its effect? The second is the legacy of inspiration and influence it has on people. Really beautiful, efficient, clean and green buildings inspire everyone to live better and build better. Our design work is designed to inspire people to change the way they build, not through guilt and shame, but simply by showing a better way.
Regardless of your budget or the size of your project, we are at a point in history where everything we do has to take climate change and habitat and biodiversity loss into account. It is our job to be stewards of this amazing, beautiful world and not take more than we need and give back more than we take.
Jason F. McLennan was named Impact Architect at Nexii Building Solutions to design and create impactful and sustainable buildings. He spoke to Construction Canada about ways to push the boundaries between architectural innovation and sustainability.